Creating a Winning Business Strategy
by Ron Horton
Football season is upon us.  Soon, you'll be watching your favorite team battle it out against their competition on a weekly basis, and the leaders who execute their game plans best will surface.  By the time you get to the bowl games, you'll clearly see which team had a winning strategy that took them through a long, brutal season – and who was left behind.
Winning teams – and businesses – don't occur by accident. Unlike a Hollywood blockbuster, the heroes don't make it up on the fly.  Leading businesses have a solid set of objectives, a clear plan, and the vision to achieve their mission. Businesses with a competitive edge have a clear business strategy that unites organization to achieve far-reaching goals.
"Today I will do what others won't, so tomorrow I can accomplish what others can't." — Jerry Rice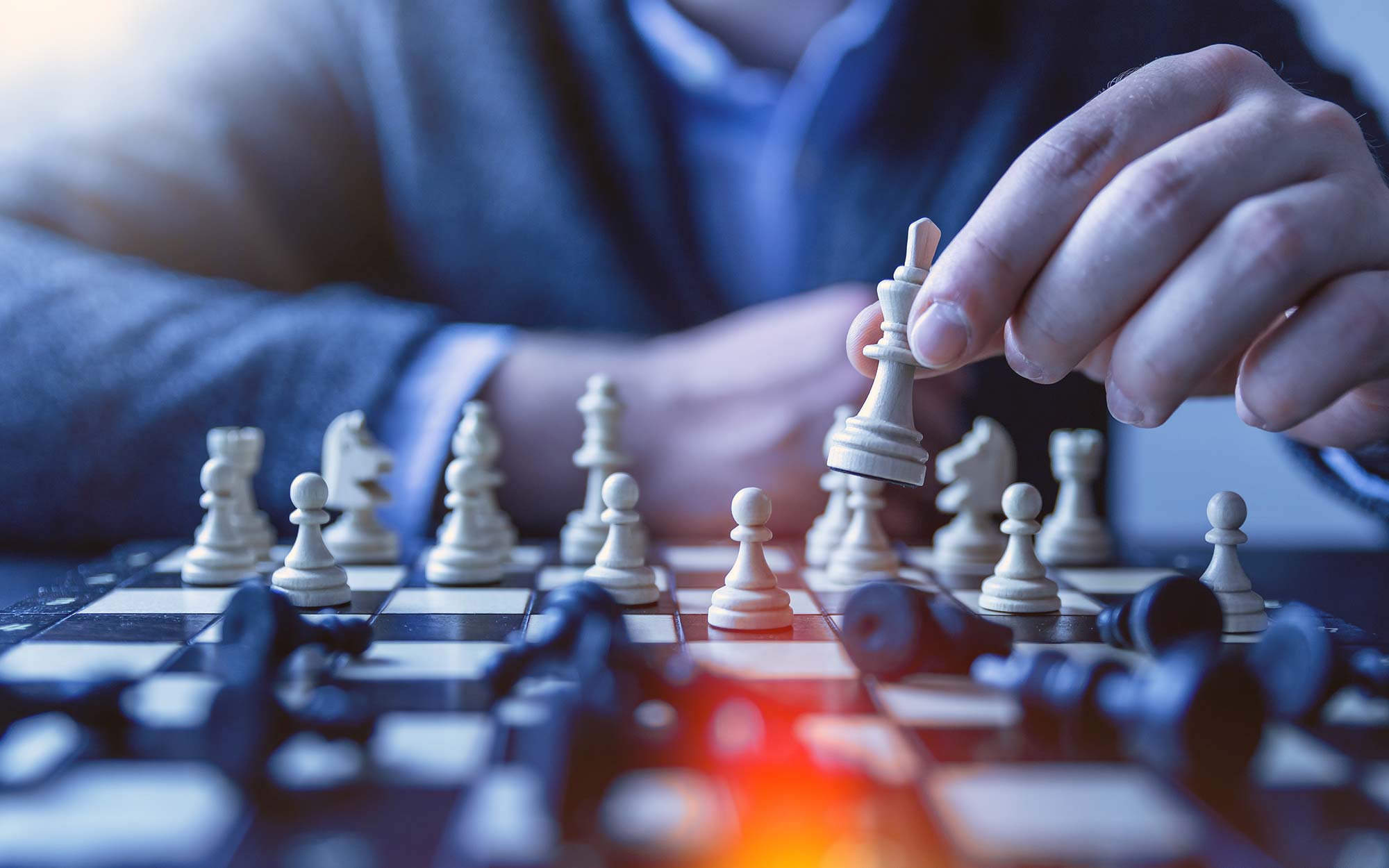 The Benefits of a Clear Business Strategy
There's a business fallacy that says if you start in your garage, wear a hoodie, put in 10,000 hours, and get $10 million of venture capital, you'll be the next big success. Unfortunately, about 75% of venture capital backed businesses fail, and a clear business strategy may help overcome common business failure reasons.
A clear business strategy helps to:
Strengthen the Organization.

 A strong organization has clear goals to execute. A business strategy spells out those goals after a thorough analysis of your internal capabilities and external influences. Your strategic plan identifies specific goals, removes ambiguity, and makes it easier for your team members to achieve your business objectives.

Clarify the Purpose. Leaders, employees, and business partners need to know the Big Why you're in business. A business strategy clarifies the purpose by stating a clear mission that answers tough questions like: Who are you? What's your goal? Where are you headed? When will you get there? 
Establish a Belief Structure.

  Every team needs to understand the rules of conduct. Establishing core values tells internal and external parties what you stand for. Telling people that you stand for teamwork vs. individual achievement will set a code of conduct for your employees.
Create a Foundation for Long Term Success. 
Clarifying who you are, what you do, and how you will achieve it sets a foundation for lasting success. Establishing where you are going, a code of conduct, and potential roadblocks helps you create a roadmap for short term and long term objectives.
The Strategic Planning Process
There are three phases to the Strategic Planning Process as shown below:
Strategy Plan Development

Measurement & Monitoring

Execution and Improvement

Mission
Vision
Core values
Big Rocks

KPI and Metric identification and target setting

Dashboards

Operating Routines Coaching

Tactical Measure Identification

Program Management

Project Management

Process Improvement
Strategic planning is an iterative process that starts with developing the plan, measuring and monitoring the plan, and continually executing and improving upon it. Strategy is not a one time event and must keep evolving to reflect organizational, competitive, and environmental changes.
Strategic planning takes time and is best developed with the help of a Strategy Consultant who has expertise in this area.  The consultant acts as an objective expert who can identify your blind spots, offer industry best practices and provide leadership through the execution phase. The Strategy Consultant makes sure you establish a sound framework and can help you deliver results in a timely fashion.
The first phase starts with Strategy Plan Development which includes four objectives to define for your organization.
Mission – Short, concise, and powerfully worded, your mission statement identifies your business goal. It may be to build the best products, inspire customers, or contribute to global change. While lofty, readers must still connect to it and understand how you will execute upon it.
Warby Parker: To offer designer eyewear at a revolutionary price, while leading the way for socially conscious businesses.
Vision – Future-oriented, a vision statement expresses where you want the company to go or what you want your organization to become as a result of fulfilling your mission. You may choose one of the traditional visions that include price, cost, or market share leadership, or choose a differentiation goal that includes customer engagement or niche leadership. 
Southwest Airlines:  To become the world's most loved, most flown, and most profitable airline.
Core Values – Core values must be clearly communicated, practical, and easy to remember. They must be clearly stated and communicated for your team (and you) to remember and practice.
We sell the highest quality natural and organic foods –

We appreciate and celebrate good foods.

We Satisfy And Delight Our Customers — Our customers are the lifeblood of our business and our most important stakeholder. We strive to meet or exceed their expectations on every shopping experience.
We Promote Team Member Growth And Happiness

— Our success is dependent upon the collective energy, intelligence, and contributions of all of our Team Members.

We Care About Our Communities And The Environment

— We serve and support a local experience. The unique character of each store is a direct reflection of a community's people, culture, and cuisine.

We Practice Win-Win Partnerships With Our Suppliers — We view our trade partners as allies in serving our stakeholders. We treat them with respect, fairness and integrity – expecting the same in return.
We Create Profits and Prosperity — We earn profits every day through voluntary exchange with our customers.
"Set your goals high, and don't stop till you get there."
Bo Jackson
Big Rocks. "Big rocks come first." If you've heard of Stephen Covey, you probably remember his Big Rock exercise. The point of the exercise is to prioritize the Big Rocks first (business objectives) or you'll never be able to fit in the small pebbles (daily nuisances). Big Rocks are the "long game" you must keep focused on, despite the small pebbles that consume your time and energy.
Big Rocks are unique objectives your company wants to achieve. Do you want to triple your sales in 12 months? Expand your product line to an international market? Increase market share by 5% in 6 months?  Those are all BIG rocks that are the core of your strategic plan. Establishing 3 to 5 Big Rocks will keep you focused for the long term.
Your Big Rock business objectives set the stage for defining your Mission, Vision, and Core Values. For instance, an aggressive revenue growth objective requires a mission, vision, and core values that align with that objective. The company must strive to understand what will make them successfully and rapidly grow revenue within their industry, define a vision and mission, and then create a plan to execute upon it. 
For example, if we refer back to the Southwest Airline example, we see that they identified 3 key objectives that would make them not just competitive, but successful for the long term in the airline industry.  They require:
A Robust Route Network

(carry the most passengers in the US)

Compelling Brand Appeal

(employ the best people in the airline industry)

Superior Financial Position

( continue 46 years of consecutive profitability)
These 3 "rocks" help drive their business and clearly aligns with their mission: To become the world's most loved, most flown, and most profitable airline.  As shown by the Southwest example, it is only by aligning your objectives with your mission that your roadmap is clear and your internal leaders and staff can follow it.
Your strategy consultant is especially valuable during this stage as they will play the role of objective observer and ask important questions intended to craft a cohesive and aligned strategic plan that is actionable and achievable.  Internally-developed strategic plans may not reflect critical blind spots that could derail your long term objectives. A strategy consultant provides value by:
Ensuring that the strategy plan reflects actual work done by the company.

Including key stakeholders in the plan development, including division leaders, staff, and key business partners.

Creating a workable plan with incentives to reach important objectives.
"It's not the will to win that matters—everyone has that. It's the will to prepare to win that matters." — Paul "Bear" Bryant
How to get started with your strategic plan
You already have a million things on your to-do list, including "develop strategy plan".  But the time put into developing a strategic plan now may remove some of the crises that will appear on your future to-do lists.
The Strategy Plan Development phase, when followed by Measurement and Monitoring and finally the Execution and Improvement phases provides something missing from most organizations: clarity. When you have a clear vision and objectives that are measured and improved upon over time, you have a distinct roadmap to follow on a daily basis as well as for the future.
A strategic plan not only establishes big goals, it guides small daily actions that result in incremental improvement over time. Your plan states who you are, where you are going, how to act, and what the destination will be. When clearly communicated and followed, your strategy plan is a powerful force for long term success.
"When you're good at something, you'll tell everyone. 

When you're great at something, they'll tell you."  Walter Payton
Pinnacle Consulting 
Strategic plans are best created by partnering with a management consultant who uses their expertise to help outline your mission, vision, core values, objectives, initiatives, and KPIs that will successfully transform your business. The first step to building your strategy plan is working with a professional who understands where you are now where you want to be tomorrow.
Pinnacle Consulting provides strategic planning and management consulting leadership to organizations, creating efficient and operations and exceptional execution, facilitating strategic business growth. We provide:
Business Strategy Consulting

Measurement and Monitoring Services

Program and Project Management Services

Management Consulting Services
To find out more, Contact Us.