How an Innovative Strategic Plan Can Propel Your Company to the Next Level
by Ron Horton
If you're drinking your Hazelnut Macchiato and using the Starbucks' public WI-FI to read this article, you can thank a Starbucks customer.
For over 10 years, Starbucks solicited ideas from customers as part of their drive to innovate, bringing over 277 ideas to life. Cake pops, splash sticks, mobile payment at the drive thru, and a Pumpkin Spice Latte' VIA were also innovative ideas that have made Starbucks a customer favorite.
This modern day version of a suggestion box is an example of how a company embraces innovation, building onto their culture and strategy, and differentiating them from their nearest competitors (McDonalds and Dunkin, for example). Customers are Starbucks' competitive advantage, and, like many corporate innovators, they've integrated customer co-creation as part of their business strategy.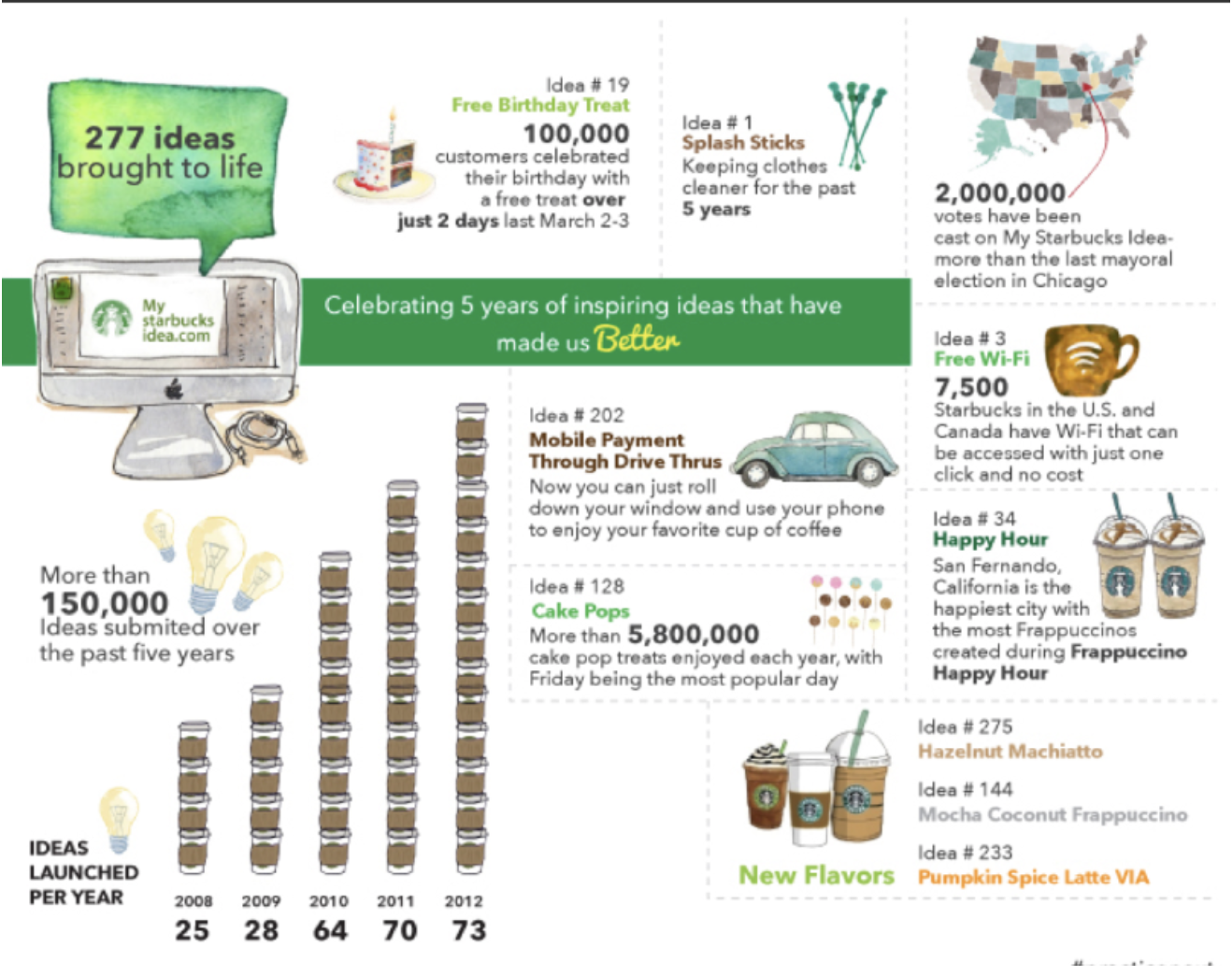 Innovation is in the eye of the customer
Innovation is not something that is just new, but something that creates value, is wanted or needed by your customers, and a product or service they will buy. Companies must be able to take a useful, creative idea, work out the bugs, and bring it to market – quickly. Creativity is heightened (and risk reduced) by talking to your customers to bring them what they want and need. Without putting new ideas into action, there is no innovation, and a company will stagnate.
Leading companies are doing more than just talking to their customers; they're bringing them in-house to help discuss and define ideas to bring to market. Proctor and Gamble developed P&G Connect + Develop to "drive discontinuous, sustainable innovation and productivity." By partnering with inventors, small businesses, and other contributors, they create the next innovation you'll see in your home. Oral Care, Health and Grooming, Cleaning Products, Packaging Solutions, and Manufacturing Solutions are all areas for which they solicit ideas. If you've used P&G's Febreez in your home, you've benefited from P&G's drive for innovation.
Other companies with similar projects include IKEA, Heineken, Unilever, LEGO, DeWalt, and BMW. Coca-Cola uses their innovation center to develop flavors that reflect the tastes of Southeast Asia, hitting the streets to open an R&D lab for consumers to try different flavors. Disrupting the R&D process itself is part of Coca-Cola's strategy in developing the next line of innovative products.
"Leading companies are doing more than just talking to their customers; they're bringing them in-house to help discuss and define ideas to bring to market."
Strategic plans that drive innovation must be driven by value to the customer
While businesses are designed to meet customers' needs, they don't always capture the Voice of the Customer (VOC). Assumptions, quarterly focus groups, and social media comments might offer a glimpse into a customer's life, but truly successful companies integrate the customer viewpoint into their operations. How do they do this? By embedding innovation – and, therefore, the customer – into their business strategy.
P&G, Coca-Cola, and Zappos are all successful companies who understand that customers drive innovation, innovation drives value, and value is the ultimate competitive advantage. By deeply understanding their customers' voice, pain points, and needs, they create the newest solutions that make life a little better for the markets they serve.
To integrate delivering value into your strategic plan, you'll need to do five things.
Include Innovation as a Strategic Imperative or "Big Rock

". Innovation (and, therefore, value) is not an afterthought. It's a foundation upon which a strategy plan is built.

Set stretch goals to push the envelope

. Innovation can be messy. Out of 150,000 ideas submitted to Starbucks, only 277 came to market. But like many leading firms, they kept at it. Innovation includes successes and failures (remember New Coke?) but ultimately results in value to the customer.

Maintain Agility with Execution.

In today's fast-paced world, what is innovative today might be old news in 3 to 5 years. But if you don't offer new products, your customer base will turn to someone else who offers the next latest thing. That's why it's important to be adept at bringing new ideas to market and execute, execute, execute.

Embed Innovation in Company Culture.

  Innovation isn't a project with a beginning, middle, and end. It's an evolutionary process that requires commitment and sustainability for the long term. When a company is customer-focused, they naturally recognize opportunities for changes that meet the dynamic needs of customers and clients.

Focus on Continuous Breakthroughs.

Coca-Cola's street-front R&D lab in Southeast Asia is a perfect example of continuous ideas. It comes by a permanent and strong connection to customers and values their ideas, pains, and desires. Innovation happens where customers are. Your business innovation strategy must include meeting them where they are – and staying there.
An innovative strategic plan is about the customer, for the customer, and often by the customer. Without capturing their perspective, a strategic plan only represents the perspectives of those who developed it, not those who will benefit from it.  A strategic plan that includes a focus upon innovation, as well as processes to support it, creates a sustainable competitive advantage.
"An innovative strategic plan is about the customer, for the customer, and often by the customer."
Pinnacle Consulting
Strategic plans are best created by partnering with a management consultant who uses their expertise to outline your vision, mission, objectives, initiatives, and KPIs that will successfully transform your business. The first step to building your strategic plan is working with a professional who understands where you are now and where you want to be tomorrow.
Pinnacle Consulting provides strategic planning and management consulting leadership to organizations, creating efficient operations and exceptional execution, and facilitating strategic business growth. We provide:
Business Strategy Consulting

Measurement and Monitoring Services

Program and Project Management Services

Management Consulting Services
To find out more about us and how we can help you and your business, contact.